Client Success Story: R & H Aluminium Limited T/A Nulook CHB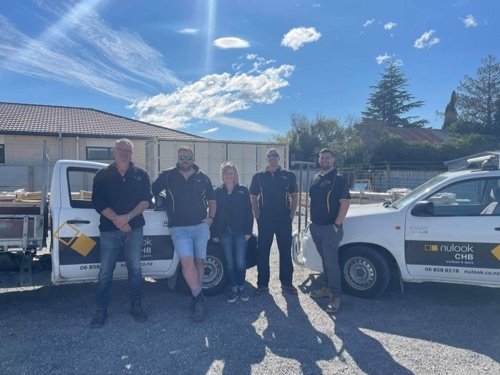 From small beginnings Nulook CHB has grown into the thriving business that it is today. With a current team of six (and recruiting for more) it's fair to say that it's been a rapid journey over the past few years. 
Nulook CHB provide quality aluminium joinery to meet the New Zealand market and conditions.  Approx. 90% of the business is retail – they supply products for new homes, alterations and offer installations for replacements on existing homes. 
Back in 2003 Roscoe Williams, who has had 24 years' experience in the aluminium joinery business, started working as a foreman at Nelson Nulook in Waipukurau. He was then required to manage the business at very short notice in 2017 (when the owner suddenly left due to personal reasons). With limited knowledge of the business operations, he immediately had to learn all the quoting/ordering processes etc to keep the business running smoothly. This coupled with a quick handover and no previous management experience meant it was a huge learning curve for Roscoe. Then within a very short period he, and his partner Helen, purchased the business. At the time of purchase there was just Roscoe and one other staff member.  
Since 2017 we have seen a massive boom in the building industry. Largely due to Covid travel restrictions, people are spending their money on new housing and upgrading existing housing.  Returning New Zealanders has also seen demand for property increase, especially in Central Hawkes Bay. To keep up with demand Roscoe has employed more staff and in 2019 Helen left her job to work in the business full time. She now helps manage the administration function for the business, front of house and assists with quotes etc. 
Roscoe, Helen, and their team continue to build strong relationships with a network of local builders whom they supply with quality products and a high standard of service to ensure repeat business.  They believe that quality and service are the fundamentals of their business. They say it's really satisfying to see customers now referring business onto them. There is no better advocate for your business than a personal referral from someone who has experienced your products and services first-hand.
Nulook CHB is a family-owned business (not a franchise) and come under the Altus umbrella who supply their window systems. Altus have also recently featured all their brands including Nulook on The Block television series.
In 2019 Roscoe and Helen attended the annual nationwide Altus conference and were recognised with an award for the highest percentage increase in sales for the group.  Turnover for the business has tripled in the past three years.  Whilst demand in the building industry in general, has provided some of this growth, Roscoe and Helen have also increased their sponsorship and advertising spend and are now doing more business in Napier and Hastings. 
With increased demand, comes some extra costs too and they've needed to invest in the business, including upgrading workshop equipment and vehicles. 
At a local level Helen and Roscoe are about giving back to their community. They employ local people, sponsor a number of local events, and support other local businesses wherever possible. They are strong believers in what you put into the community you get back.
Roscoe and Helen are grateful to those who have supported them on their journey so far – their fantastic team, Altus, suppliers, local builders, Aaron and the team at PKF Carr & Stanton, and customers who have recommended them to others. They're extremely proud of where the business is at now and say that the journey so far has been both satisfying and challenging at times.
Roscoe and Helen are also excited to announce that they have a new aluminium suite of joinery arriving in October and are looking forward to showcasing this. 
We congratulate Roscoe and Helen on their success so far and we look forward to continuing to support their business as it flourishes.
If you would like to get in touch with Nulook CHB please contact them on 06 8588578 or nulook@xtra.co.nz
See more Latest News items